Introducing Crane Game Master: Your Online Claw Game Experience:
Crane Game Master, operated by Crane Game Japan Inc., is an innovative online claw game that brings the excitement of arcade claw machines right into your home.
This service allows you to remotely control real claw machines via the internet, using a dedicated app or website.
The goal is simple: maneuver the crane in real-time to grab and win prizes. Equipped with cameras, these machines offer an immersive experience as if you're standing right in the game center.
What's more, the prizes you win are delivered straight to your doorstep, bringing the joy of arcade winnings home. Originating from Japan, this unique experience has gained popularity worldwide.
Features: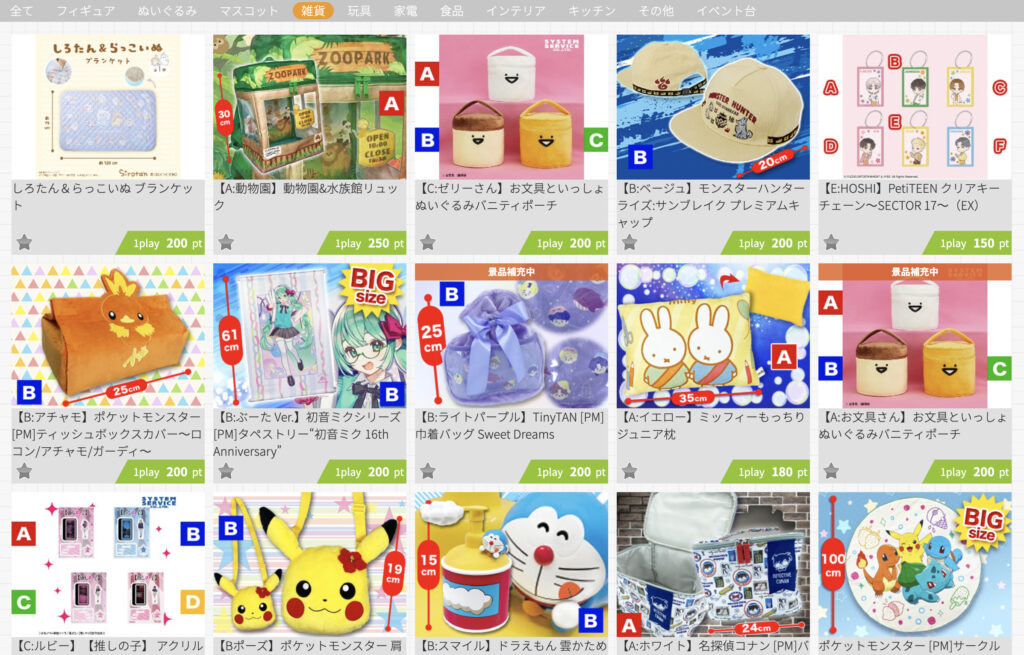 First-Time Free Bonus: As a welcome gift, new registrants to Crane Game Master receive 3 free plays. Sign up and start playing immediately without any charge.
Diverse Range of Prizes: Crane Game Master offers an extensive array of prizes across various categories:

Figurines: Collector's items from popular anime and characters.
Dolls: A variety of character plushies and dolls.
Mascots: Portable-sized character goods like keychains and mini plushies.
General Merchandise: Everyday items including stationery, accessories, and fashion goods.
Toys: Toys for all ages, from children to adults.
Electronics: The latest gadgets and electronic accessories.
Food Items: Unique snacks and sweets.
Interior Goods: Decorative items for home embellishment.
Kitchenware: Useful items for cooking and dining.
Special Items: Exclusive products and promotional items for events.
These prizes often feature collaborations with popular franchises such as
'SPY×FAMILY', 'One Piece', 'Dragon Ball', 'Disney', 'Rilakkuma', 'Sumikko Gurashi', 'Sanrio', 'Pokémon', 'Chikawa', 'Snoopy', 'Demon Slayer: Kimetsu no Yaiba', 'Doraemon', 'Tokyo Revengers', 'Hatsune Miku', 'My Hero Academia', 'JUJUTSU KAISEN', 'Chainsaw Man', 'Uma Musume', 'Evangelion', 'Re:Zero', 'The Quintessential Quintuplets', 'hololive', 'Love Live', 'Minions', and many more.
Players can engage with various types of claw machines such as the 3-claw, bridge, takoyaki, direct, valley drop, ball, practice, rubber cord, and event machines, each offering a unique challenge to win these coveted prizes.
Join the fun and start your claw game adventure with Crane Game Master today!
the Pricing Structure of Crane Game Master
In Crane Game Master, commonly referred to as "Kuremasu," each play costs between 77 to 498 PT.
PT, or Points, is the currency used within the Crane Game Master platform. With each play roughly equating to 1 yen, the cost per game ranges from 77 to 498 yen, depending on the machine and the difficulty level. To put this into perspective for an international audience, this translates to approximately $0.55 to $3.58 per play, based on an exchange rate of 1 USD to 140 yen (please note that exchange rates fluctuate).
It's worth noting that the majority of machines are priced at 200 PT per play. This pricing structure allows players to enjoy a variety of games at a reasonable cost, making it accessible for everyone to try their hand at winning some exciting prizes.
Press the additional button in the top right corner.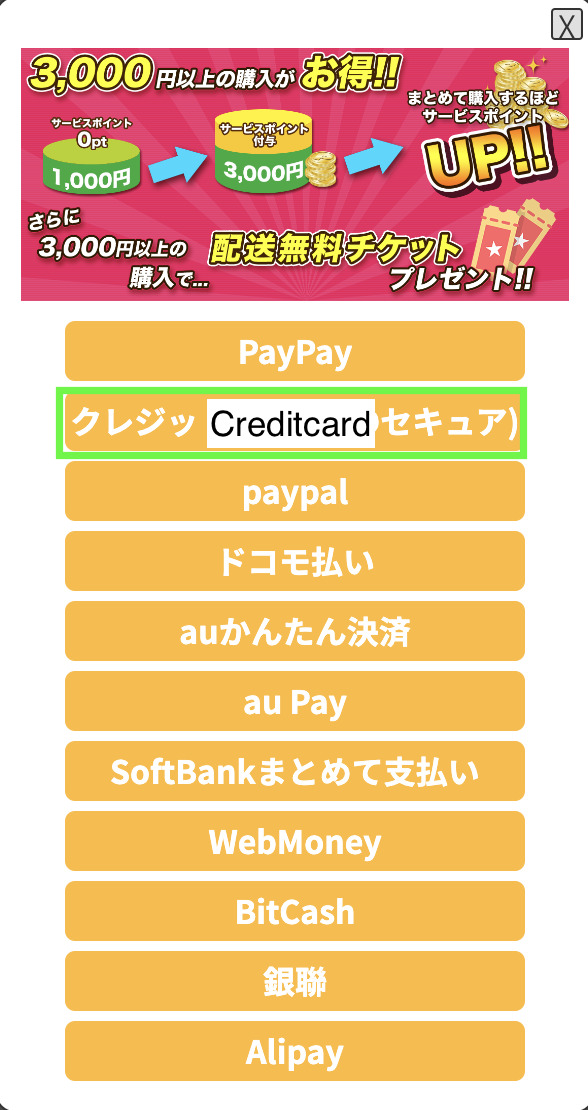 If paying by credit card, select "Credit Card."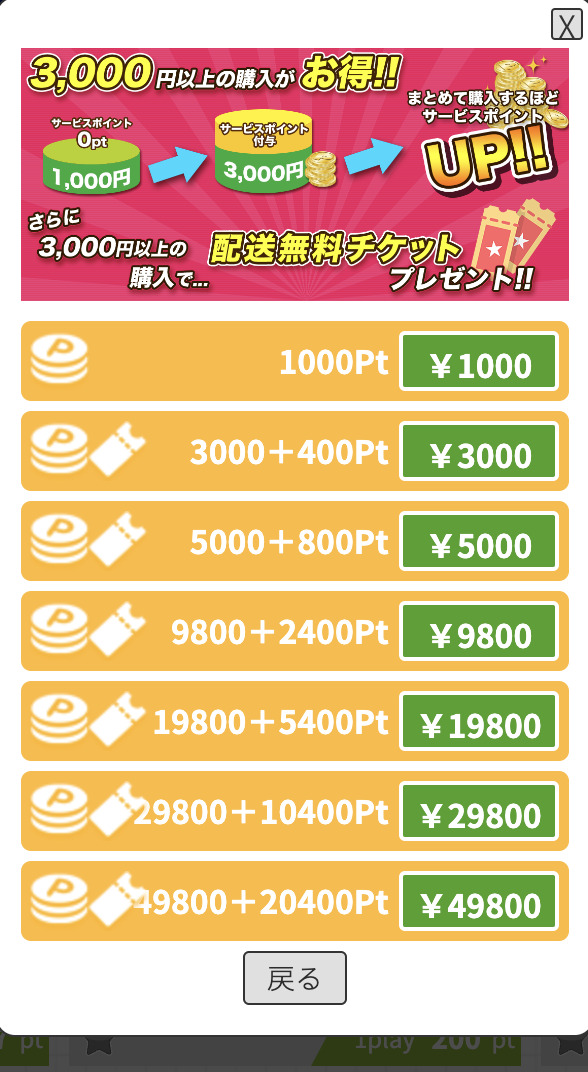 Choose the number of points you wish to purchase.
How to Play Crane Game Master:
STEP 1: Choose your favorite machine.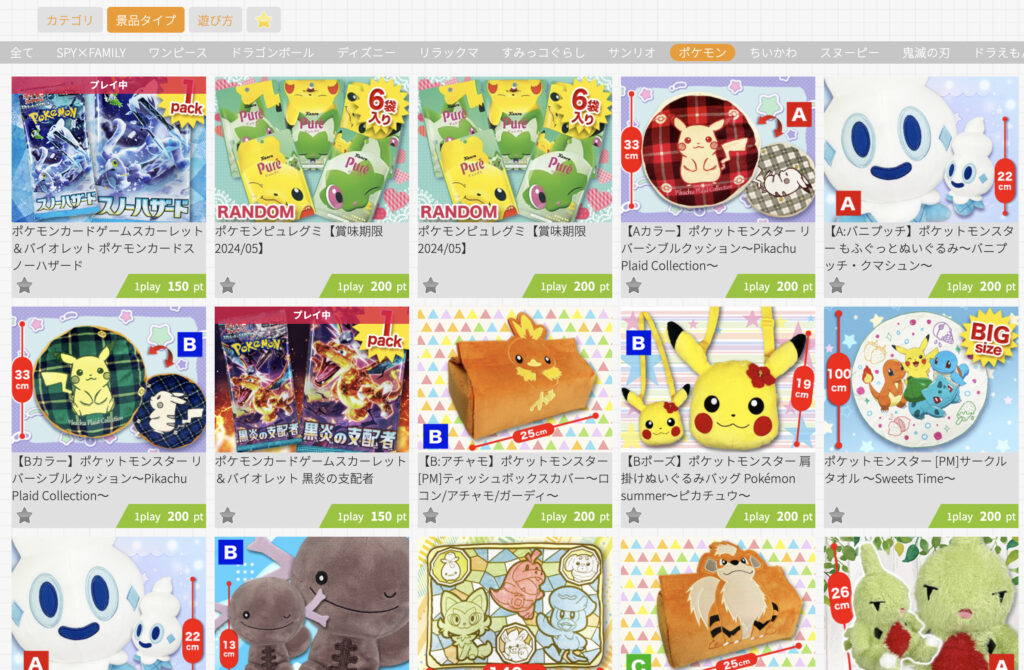 STEP 2: Press the "Start Game(ゲーム開始)" button.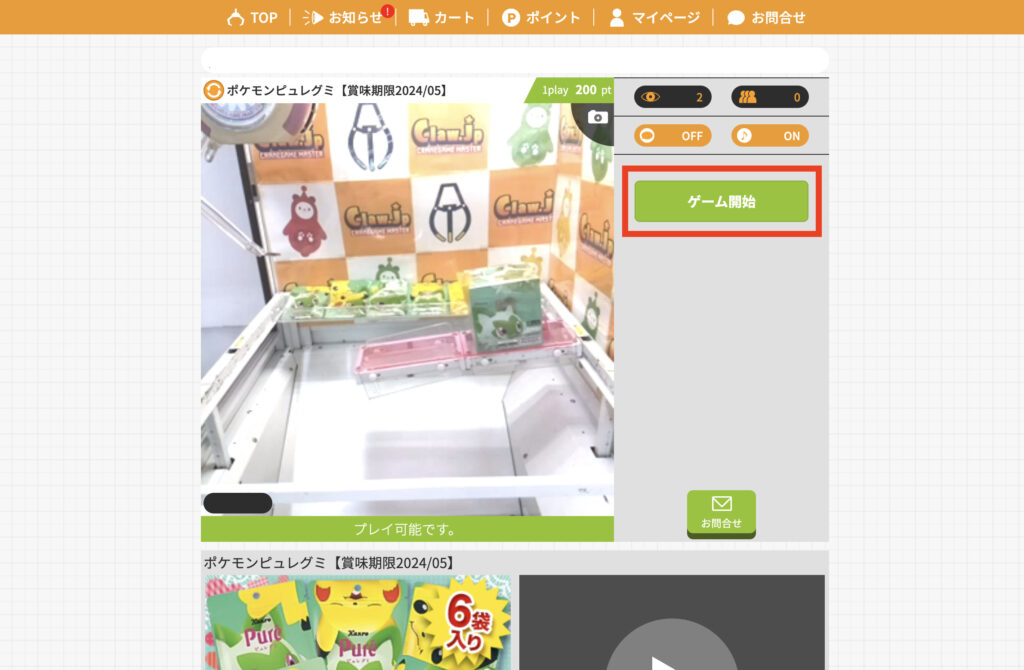 STEP 3: Use the left and right buttons to move the arm.
That's all there is to it! After that, the arm will automatically lower. With a bit of skill, you might even grab a prize on your first try!
The video above shows my attempt to win a figurine using the crane game. It was quite challenging, but I ultimately succeeded in grabbing the prize.
If you're struggling to win a prize after a long attempt, the staff will step in to assist you. Typically, they'll help you secure the prize after you've spent around 5,000 points.
What are the shipping costs for destinations outside of Japan?
Free Shipping Tickets are distributed under the following conditions:
Immediately upon the first point purchase.
If more than a week has passed since using a Free Shipping Ticket and points are purchased with a transaction of 5,000 yen or more, the ticket is distributed immediately.
If points are purchased within a week of using a Free Shipping Ticket, with a transaction of 5,000 yen or more, the ticket will be distributed at 5:00 AM, 7 days after the previous Free Shipping Ticket was used. For example:

Day 1: Free Shipping Ticket used.
Day 3: Points purchased with a transaction of 5,000 yen or more.
Day 8: Free Shipping Ticket distributed (at 5:00 AM).
Regardless of how many times points are purchased between the use of the Free Shipping Ticket on Day 1 and 4:59 AM on Day 8, only one ticket will be distributed at 5:00 AM on Day 8. If no purchases are made after Day 1 and points are purchased with a transaction of 5,000 yen or more after 5:00 AM on Day 8, the ticket will be distributed immediately since 7 days have elapsed from the starting date. Furthermore, you can receive Free Shipping Tickets multiple times if conditions 2 and 3 above are met.
Please note:
You cannot hold more than two Free Shipping Tickets at the same time.
Conditions 2 and 3 above apply only to single transactions of 5,000 yen or more.
Accumulated transactions (e.g., 3,000 yen X 2 = 6,000 yen) that total over 5,000 yen are not eligible.
All times are based on Japan Standard Time (JST).
If you do not have a Free Shipping Ticket, you can request shipping at the following rates.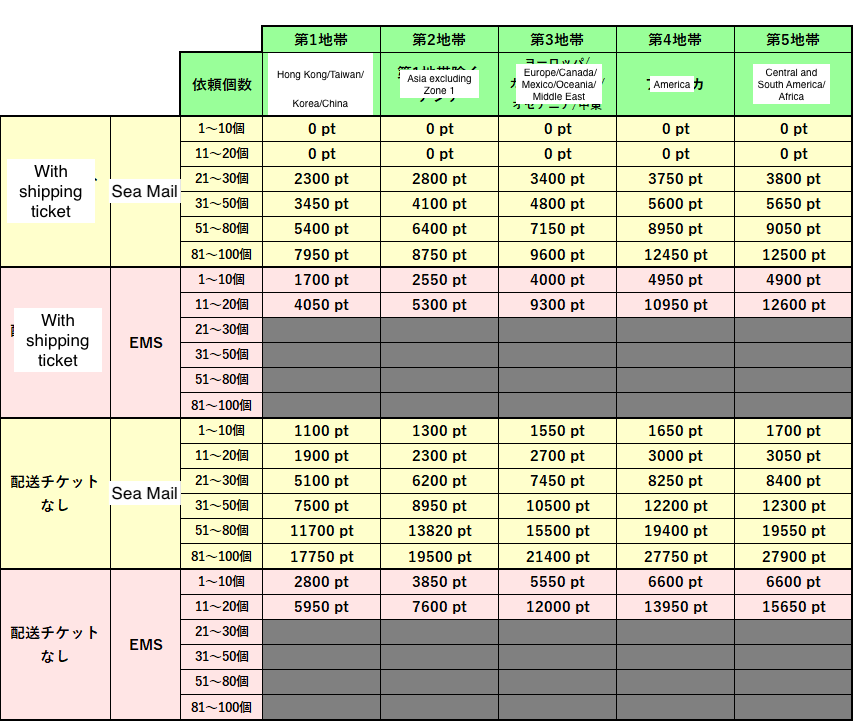 Additional points may be required depending on the region.
Conclusion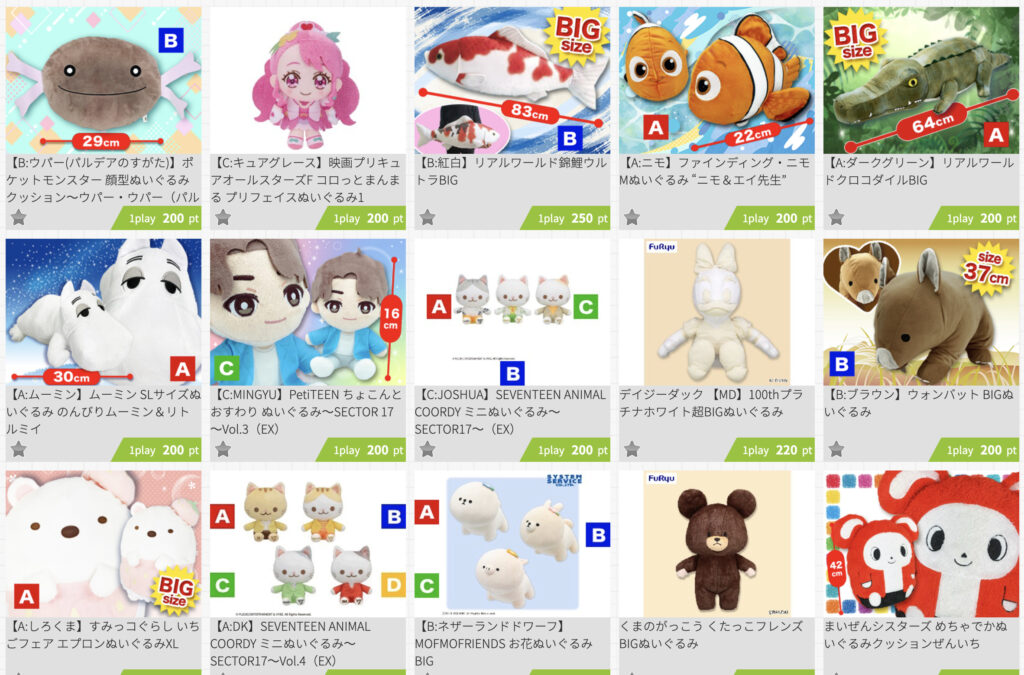 Crane Game Master is a service that allows you to enjoy Japan's iconic arcade culture online. Prizes won can be shipped internationally. With the first three plays being free, feel free to download and give it a try.